"Finding a builder is hard enough. Finding a good builder, who you'd recommend is more than challenging but we think so highly of Rob and his team that we recommended them to our neighbours who then used RW1 as well!"

RW1Build are an innovative building company in West London. I started RW1Build to provide a professional building service that offers maximum value for money, imaginative ideas and great building solutions. Supported by a skilled and experienced team, I personally manage each and every project we undertake. So I am the first person you meet, I am there at every critical stage and I am the person who hands over the completed project. I work in close partnership with you to deliver exactly what you want. It's an approach that my clients value, one expert point of contact who handles the whole process and is always available to meet and talk to.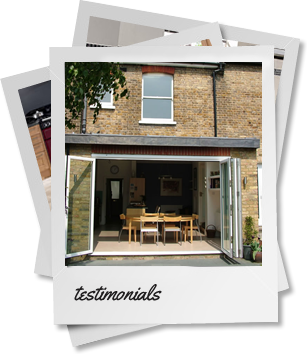 OUR EXPERIENCE
We are recognised by industry bodies like the FMB for our professional standards, but more than this, the most important ingredient for success is a really good relationship between you the client and us, your contractor. A productive partnership between us is key to our approach.
We have completed a very wide range of projects, on a variety of house types. This experience helps us to provide ideas and solutions that can make the most imaginative use of the space you have. We work closely with architects on a daily basis. If you don't have an architect, we can recommend an experienced one for you.
You may find it useful to talk to clients we have completed projects for and we recommend that you do. We can put you in touch with them so you can find out about what it's like to work with us. For now though, we have collected some testimonials you can view here.
WHERE DO I START?
That's a good question! It's a good start point to arrange for us to come and visit you and discuss your project. We can advise you on what is possible, what you will need to consider and give you an indication of the likely budget you will need to set aside.
You may be just at the ideas stage or you may already have initial plans and drawings. Whatever stage you are at, we can help to turn your ideas into reality.
We don't charge you anything for putting together a quotation and it will help you to decide exactly what will work best for you before making a commitment.
There are often a myriad of questions. We are here to answer them and guide you through the process.